As the country with the largest population in the world, it has been vital for China to implement serious changes within their food system. Issues concerning sustainable food production, polluted crops and food waste are being met head on with a myriad of outside-the-box solutions. These new innovations have generally been met with open arms by consumers. According to Sam Geall, "a research fellow at the U.K.'s University of Sussex who focuses on China's environment and agriculture" (Bloomberg), many Chinese people are wary about food-safety, and express a willingness to pay more for higher quality products. With pollution, overuse of fertilizer and other food related hazards causing mistrust, there's no denying that the feeding the ever-growing population requires rethinking food production.

So what is the key to cultivating innovative food technology in a country of 1.4 billion citizens? Startups are shining in this area. Bits x Bites, a Shanghai based "accelerator and venture capital that supports food tech startups in shaping our food future" offers select food-tech startups the capital and guidance needed to thrive in the Chinese economy. The first of its kind, Bits x Bites is supporting some seriously innovative startups.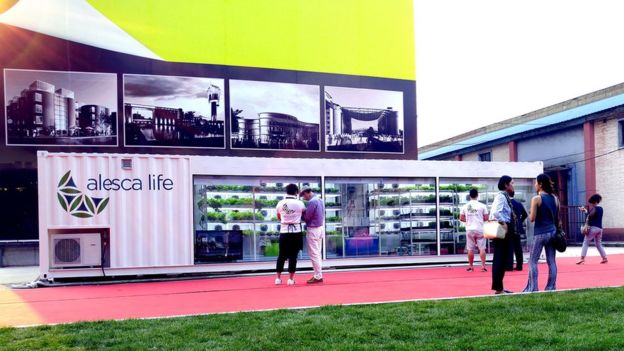 China is struggling to maintain farmable land and more crops are imported than grown in the country. This has led entrepreneurs to turn to hydroponic farming for fresh produce options. The Chinese Academy of Agricultural Sciences in Beijing researched vertical farming, and found the method to be highly successful and sustainable. This has garnered attention and spurred the Agricultural Development Bank of China to fund key projects promoted by the Ministry of Agriculture (Bloomberg). As urban gardens gain traction, Bits x Bites supports Alesca Life – a startup selling shipping container greenhouses. The company even developed an app which allows for the grower to monitor and track conditions of the plants.

Despite needing ways to produce more food, China has a big issue with food waste. Farm manager Hu Rong has found a sustainable solution to not only tackle the issue of disposing it, but also provide an agriculturally beneficial byproduct. Partnering with Chengwei Environment, "a waste recovery firm that collects food waste from over 2,000 restaurants in the Sichuan capital city of Chengdu" (Mother Nature Network), Rong raises black soldier fly larvae that can consume massive amounts of organic waste. Once fed, the maggots are in turn sold as protein dense animal feed.
Insects have also been increasingly regarded as human friendly fare. Katharina Unger has experienced these protein rich bugs as a meal first hand, in the process of inventing Farm 432 – an at home insect breeding device which allows the user to raise insects as food in their own homes. She's even offered up her favorite recipe – larvae and tomato risotto. Bits x Bites is also funding a startup that turns normally discarded silkworm husks into protein-rich flour.  
Bits x Bites is the first food tech accelerator in China, based in Shanghai. China's booming population and increasing needs for innovation in the food production space will only welcome more accelerators in the same vein. Looking beyond food waste and sustainability, there is an incredibly bright future for food tech throughout the country. The innovations they carry out will be great examples for the rest of the world to follow suit with.